HSA Spain
Costa Daurada
(Costa Daurada)

Return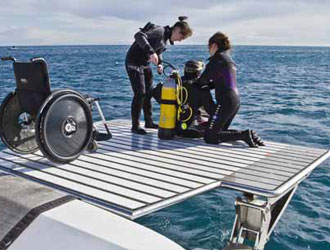 Address:
Port Torredembarra -- Torredembarra (Tarragona)

Tel.:
(+34) 687 983 274



HSA Spain is the Spanish branch of the Handicapped Scuba Association (HSA), a non-profit organisation founded in 1981 by Jim Gatacre and now the worlds leading authority in this field. The HSA is dedicated to enhancing the physical and social well-being of people with disabilities through diving.

Registered in Spain as a National Association for Underwater Activities and Swimming for People with Physical and Intellectual Disabilities, HSA Spain strives to ensure people with disabilities are afforded the same opportunities as others to receive quality training and an internationally recognised diving certification. Our training programmes are based on HSA Physical Performance Standards and a multi-level certification system allows us to train a large number of divers with disabilities such as paraplegia, tetraplegia, visual impairments and mild retardation.

The foundation Obra Social de Caixa Penedès and the association HSA Spain have signed a collaboration agreement whereby the former foundation will take part in the project by funding grants for students that undertake HSA Spains Open Water Scuba Diver Disability course. The course will cater for up to 25 students at the specialised centre for adaptive diving M. Rota Diving in Torredembarra (Tarragona).
Facilities and observations
Facilities in Torredembarras marina and at the diving centre M. Rota Diving, where the various activities are carried out, are adapted.
HSA Spain works in collaboration with hotels with adapted rooms located in Tarragona.
The Open Water Scuba Diver Disability course, 50% of which is subsidised by the foundation Obra Social de Caixa Penedès, will take place in various editions throughout the summer, with a maximum of five students per course.
Introductory courses are also organised for those that do not wish to obtain a certification but would like to experience the feeling of weightlessness afforded by the underwater environment.
Please book the activity sufficiently in advance.

Specifications verified on-site for the Agencia Catalana de Turisme by accessibility consultants.


What else does this destination have to offer?

Accommodations


Sun and beach


Sports activities


Culture


Leisure and entertainment